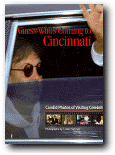 Guess Who's Coming To Cincinnati is a coffee-table, hardcover book of photographs of celebrities taken in the Greater Cincinnati, Ohio area from 1964 through 1998 by longtime celebrity photographer T. Alan Hartman. These are all never-before published photos, and include a lot of candid photos, as well as posed and performance shots. Many of the century's biggest names in rock & roll, sports, TV, film, and politics are included.
Some of the many celebrities who are pictured in Guess Who's Coming To Cincinnati include: Elvis Presley (six weeks before his death), Paul McCartney, Mick Jagger, Keith Richards, Bob Dylan, Bruce Springsteen, The Who, Jimi Hendrix, Stevie Nicks, John Denver, Michael Jackson, Michael Jordan, Muhammad Ali, Elizabeth Taylor, Sylvester Stallone, Ronald Reagan and Bill Clinton.
Guess Who's Coming To Cincinnati contains 144 pages and almost 200 photos. It is 8 1/2 x11 in size.